Awards are great, but does it make a great book? Who knows? But I do know there's lots of wonderful books out there naked, without stickers. Here are some of my old favorites that I suspect are lavishing in obscurity:
I am Dodo
I loved this book,if only for the goofy, quirky illustrations. It's about the one dodo bird that survived extinction and now hangs out in NYC. No matter how many times I've seen it, the illustration of the dodo bird dancing makes me smile.
Secret Voice of Gina Zhang
On the other hand, this book never fails to make me cry. A middle grade novel of a Chinese-American girl with selective mutism who uses Chinese folktales, like the Monkey King, to escape (and in the end communicate). Why is this out of print?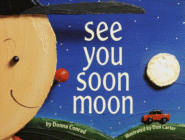 See you Soon Moon
Simple story for those sick of reading Goodnight Moon, or at least want and alternative on other days of the week. It's the illustrations I love in this book--they're like frosting.
Mordant's Wish
A heartwarming book about a mole who wishes for a friend and how the wish comes true. With soft illustrations to match this book is truly lovely.